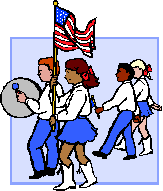 June 14th is Flag Day in the United States. On this day, we display the flag in many places. Our flag can be seen at home, in parades, at parks, on city streets, and on government buildings.
Our flag stands for the people, government, and land of the United States. When we say the Pledge of Allegiance, we promise to be loyal to our country. Can you say the Pledge of Allegiance?
Pledge of Allegiance
I pledge allegiance to the flag of the United States of America,
and to the republic for which it stands,
one nation under God,
indivisible,
with liberty and justice for all.
1. When is Flag Day?
June 11th
June 14th
June 17th
June 12th
2. Our flag stands for
mother and father
our independence
our great nation
people, government, and land
3. When we say the Pledge of Allegiance, we promise to
be loyal to the king
be loyal to our country
be good citizens
be good students
4. I pledge allegiance to the
flag
people
nation
country
5. The flag stands for the
people
capitol building
republic
rich land
6. The Pledge of Allegiance promises
liberty and justice for all
freedom for some people
a strong nation
many ideas